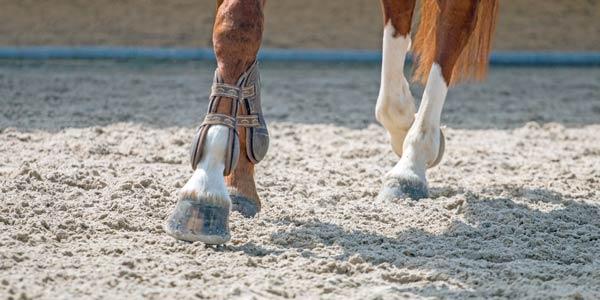 Premier Equestrian is excited to announce the launch of their exclusive new footing product All Purpose®. This incredible textile footing additive stabilizes all types of arena sand and works wonders for a multitude of equestrian disciplines, from English to Western.
Premier All Purpose is the perfect footing solution for the not-so-perfect arena sand. Particle size, shape, and mineral determine how sand performs underfoot and how it mixes with textiles, fibers, and rubber. "Not every sand is suitable to mix with footing products. Replacing sand and finding specific sands around the country can become very expensive. We wanted to offer a product that would mix with a larger variety of sands," said Mark Neihart, CEO and co-founder of Premier Equestrian. "We test every customer's sand to ensure its compatibility with Premier footing products. All Purpose Footing makes improving riding surfaces available and affordable to more people."
All Purpose is a great choice for new riding surfaces, but it's also an excellent solution for bringing life back to existing riding surfaces. It reduces dust, adds stability and grip to deep and loose sand, or it can mitigate compaction in coarse and fine sand. All Purpose is a low water footing product and it doesn't require special grooming equipment, making it an easy maintenance solution at a budget-friendly price. All Purpose is suitable for English and Western disciplines, competition venues, as well as private facilities and boarding facilities.
For the last decade, Premier Equestrian has been studying how equestrian arena surfaces interact with horse biomechanics. All Premier Equestrian arena footing products are formulated with biomechanics and injury prevention in mind.
Premier Equestrian is North America's leading supplier of high-quality footing products, arena groomers, OTTO Sport base mat systems, and arena consultation. Premier Equestrian is a recognized expert in horse arena footing as it relates to equine biomechanics. This knowledge is used daily to help horse owners across North America improve arenas and footing.
All Purpose footing can be purchased online at PremierEquestrian.com/allpurpose or call 800-611-6109. 
ALL CONTENT COPYRIGHT 2021 PREMIER EQUESTRIAN